Families
Educational testing
Are you returning to the Netherlands and would like your child to get a flying start at the new school? Or has your child already been at school for a while, but would you and the teachers like to have more insight into how they learn? Then an educational assessment by Edufax might be something for you and your child.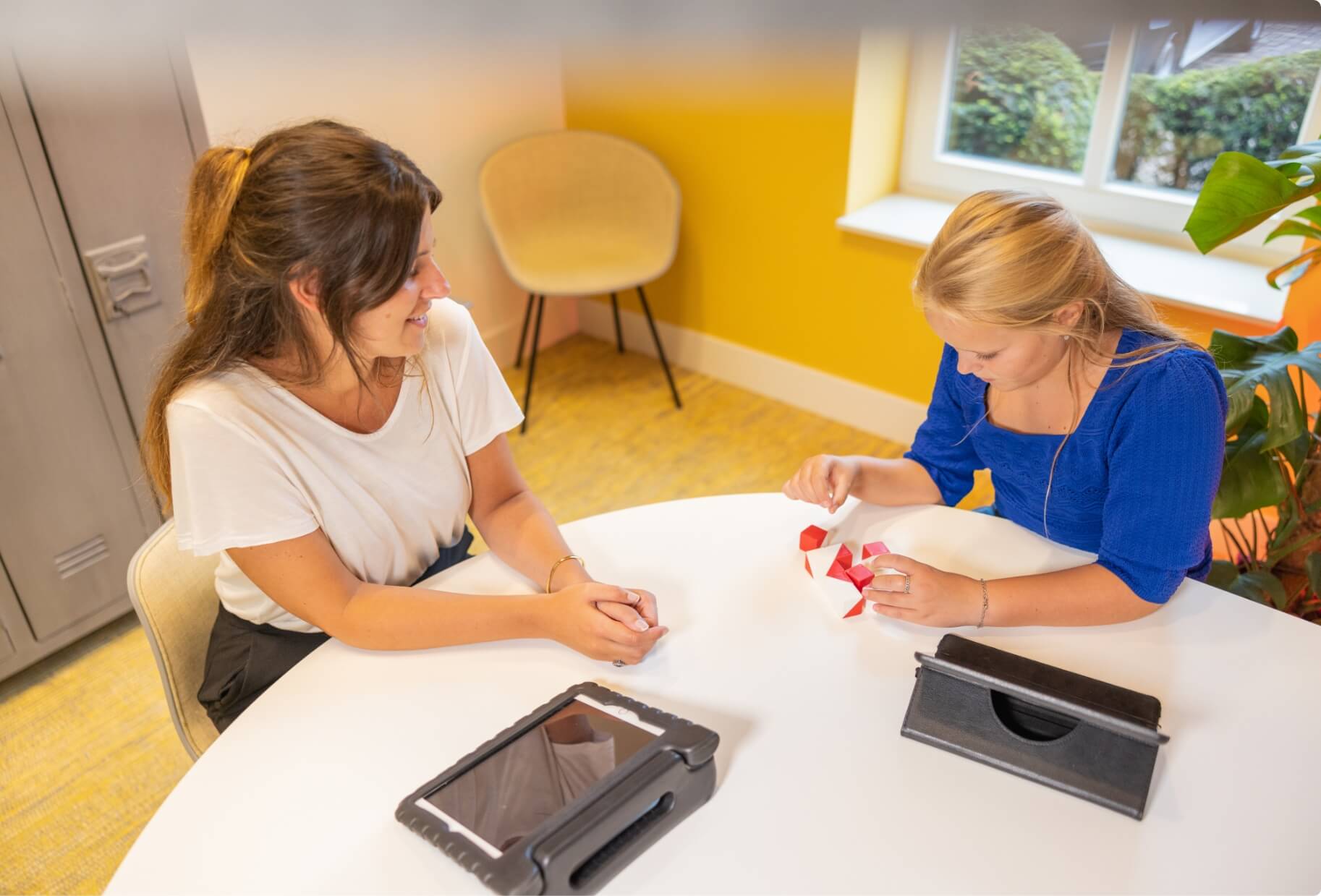 Comprehensive advisory report
A suitable place for every child when returning to the Netherlands
Has your child lived abroad for a number of years or maybe even all his or her life? Then it can be difficult to determine where in the Dutch education system your child fits in best and can enter. Our educational research offers clarity. After the investigation, you will receive a report with an answer to the research question and advice. An educational report is often necessary for the new school to be able to place your child in the right class and offer the right support.
Advice on flexible intake in Dutch education
A smooth return for your children is of great importance. The intake into Dutch education plays a major role in this. During our educational study, qualified researchers determine which skills are highly developed and which skills still need attention. Families who have been back in the Netherlands for a while, or even never left, can also make use of the educational research. This gives you a better understanding of the way of learning and the level that is best suited.
Tailor-made research
The examinations take place at our office in Leende (Eindhoven region). Here we have set up special testing rooms. However, we understand that in some situations it is difficult to come to our office. In that case, we will look together at the possibilities of conducting the examination remotely. Does your child have difficulty with Dutch, for example, or can he or she express themselves better in English? No problem; we will take this into account. Some parts of the examination are non-lingual and instructions can also be given in English. We are happy to think along with you about the possibilities for customisation. In this way, we ensure that the examinations fit in well with your wishes.
What does an educational survey provide?
Several questions are answered during the examination. In which group or class will my child fit best? Which level fits best? How does my child learn? Is my child behind and does he or she need support in certain subjects?
In a full assessment, we look at various aspects. These include the results and reports from the current school, the results of a didactic test and the ability test. This always involves two researchers, so that we can draw up sound advice from different perspectives.
T: That Edufax's services impact the lives of children around the world continuously motivates me.
Cathryn Hollin
Chantal van den Boogaard •
Coordinator and Teacher Distance Learning
Ask about the possibilities
Such a test can be quite tense for your child. That is why you are always kindly welcomed by one of our test leaders and we start with an introductory meeting. All questions can then be asked. During the examination day, there is also plenty of time for space and relaxation. Do you have any questions or would you like to know more? Then get in touch with us!